Chocolate beetroot cake
Chocolate and beetroot is a heavenly combination that is definitely worth a try. Eating cake and having veggies at the same time sounds like a pretty good idea to me! This cake is rich and moist and you'll have no trouble getting the kids to try some.
Nutrition Note;
A surprising ingredient to your chocolate cake, beetroot gives it a boost of colour, flavour and nutrients including fibre, vitamin C as well as health promoting antioxidants.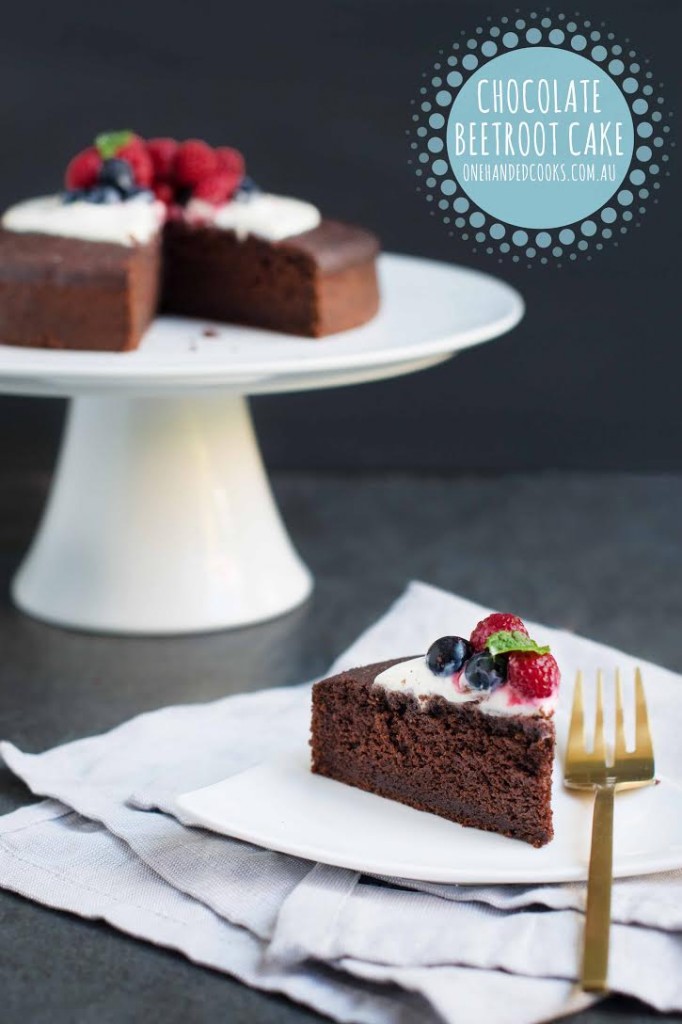 Join us on Facebook for other foodie bits and pieces.
Ingredients
1 medium-large beetroot (½ cup roasted beetroot puree)
125g butter
½ cup sugar
¼ cup maple syrup
½ tsp vanilla extract
2 eggs
1 cup self raising flour
½ cup cocoa powder
¼ tsp bicarbonate of soda
½ tsp salt
½ cup hot water
Method
Step 1
Preheat the oven to 180°C. –
Step 2
To roast the beetroot, trim stems then wrap the clean, unpeeled beetroot in a piece of foil with a tablespoon of water. Place on a baking tray and bake for about 60 minutes, or until tender and a skewer can easily pierce the flesh. Peel the beetroot while warm, wearing gloves to avoid staining hands. Place the still warm beetroot into a processor or use a stick blender to puree. Set aside to cool.
–
Step 3
Line the base and sides of a 20cm cake tin with non-stick baking paper.
–
Step 4
Cream together the butter, sugar, maple syrup and vanilla using an electric mixer. Once pale and creamy, add eggs, one at a time, beating well after each addition.
–
Step 5
Mix through the beetroot puree. –
Step 6
Sift together the flour, cocoa, bicarbonate of soda and salt in a separate bowl.
–
Step 7
On a slow speed, mix through half of the flour mixture into the buttery beetroot mixture until just incorporated. –
Step 8
Scrape down the sides of the bowl and add the hot water, mixing until combined. –
Step 9
Add the rest of the flour mixture and mix until just combined.
–
Step 10
Place in prepared cake tin and bake for 30 – 40 minutes or until a skewer inserted into the centre of the cake comes out clean.
–
Step 11
Allow cake to cool before removing from tin. –
Step 12
Ice or decorate as desired. We served our cake with a dollop of Greek yoghurt, sweetened with a touch of maple syrup stirred through, and then topped it with beautiful berries and a dusting of icing sugar.
–
The post Chocolate beetroot cake appeared first on One Handed Cooks.